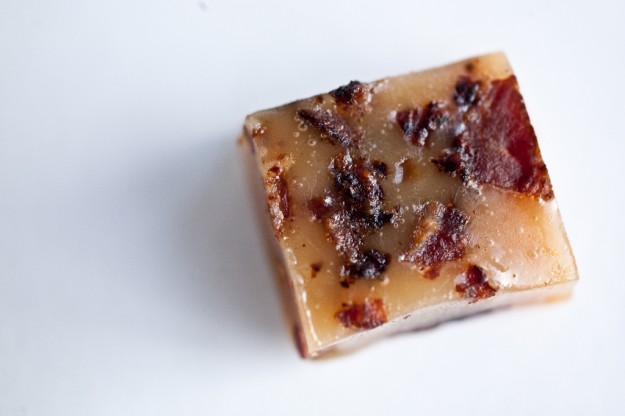 Sprinkle the bacon with cayenne before frying to a nearly blackened crisp. Once the caramel had reached its perfect molten temperature, stir in a handful of the bacon then reserved the rest to get sprinkled on top. Dip in dark chocolate.

Bacon Caramel
1/2 cup sugar
1/2 cup dark brown sugar
1 cup corn syrup
1/2 cup butter
1 cup heavy cream, divided
1/4 cup maple syrup
Bacon fried to a crisp. The amount is up to you. I used 8-12 strips of thick-cut bacon. I REALLY love bacon.
Reserve 1/2 cup of the heavy cream. Combine all the other ingredients in a medium sauce pan. Stir to combine. Set on medium high heat. Stir occasionally and cook until 240*. The candy is now at firm-ball stage. Remove from the stove and carefully stir in the remaining 1/2 cup cream. Place back on the heat and continue to cook to 245*. Immediately remove from heat and stir in a portion of the crispy bacon. Pour the caramel into a buttered dish (the size depends on how thick you want your caramels. 8×8 = thick caramels 9×13 = thin caramels. You can also use a cookie sheet). Scatter the remaining bacon on top. Let set for at least 3 hours before cutting.
recipe and images via Not Without Salt